Yvonne Thompson knew her daughter was only pretending to be dead on the hood of a wrecked car but she still choked up while watching the crash reenactment last week at Pekin Community High School.
"It's every parent's worst nightmare," she whispered.
>span class="s1">"Make good decisions and choices. Do not make your mother or father go to the basement of a funeral home and pick out your coffin," implored Michelle Watson, who lost her 18-year-old son, Jeremy, to a 2006 car crash in which the driver had been "huffing" an aerosol computer dust remover.
Some nervous laughter and talking could be heard among the 700 or so juniors and seniors as a blue tarp was pulled back to reveal the bloody crash, but the voices quieted as the scene opened to the screams of students dressed in prom dresses and tuxedos running up to the head-on staged collision.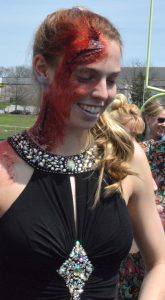 Lisa Maynard, coordinator of the OSF HealthCare Illinois Neurological Institute ThinkFirst Program, applies "road rash" makeup to Pekin Community High School senior Hannah Thompson, who portrayed a dead girl in a DUI-related car crash reenactment at the high school last week. (Photo by Elise Zwicky / for Chronicle Media)
Senior Hannah Thompson lay perfectly still as the dead girl on the hood of the car throughout the scene until being placed in a body bag at the end by the coroner. Her fake prom date, Quest Dobbelaire, staggered around in a drunken daze before a real Pekin police officer gave him a field sobriety test and then handcuffed him.
Nine students portrayed characters in the scene, including a paralyzed passenger and an unconscious driver in the car that was hit.
Real police officers, paramedics, firefighters, morticians and Tazewell County Coroner Brian Foley participated in the event to give it a feel of authenticity. OSF LifeFlight even landed a helicopter on the field to transport one of the "victims."
"I want kids to realize it's not just being fall-down drunk that's dangerous. Any alcohol in your system is impairing your ability to divide your attention, and driving is the ultimate divided-attention task," Pekin Police Sgt. Dustin Salmon said before the scene unfolded.
Dobbelaire, a senior, said, "Everything we do in life is a choice. Smart choices lead to good things and not-so-smart choices lead to negative outcomes, and this is a worst case scenario."
Drug and alcohol counselor Angie Menold, who portrayed the mom of the dead girl, was still feeling teary-eyed after the Operation Prom Night reenactment. "It's very emotional for me, but I love being a part of it because it can make a difference," she said.
Operation Prom Night reenactments have been staged in the Peoria area for more than 20 years and are usually requested by high schools during prom season, according to ThinkFirst program coordinator Lisa Maynard. Several months of planning lead up to each event.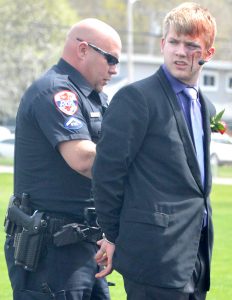 Pekin Community High School senior Quest Dobbelaire is cuffed by a Pekin police officer Joe Hitchcock as part of a mock DUI-related car crash held at the school last week to help kids realize the importance of not driving under the influence of drugs or alcohol. The event was organized by the OSF HealthCare Illinois Neurological Institute ThinkFirst Program. (Photo by Elise Zwicky / for Chronicle Media)
"The main goal is to have the heartstrings tugged a little bit to help kids realize that life can change in a blink of an eye, whether it's death or a brain and spinal cord injury that can alter your quality of life," Maynard said.
"We want to get teens, and even adults, to think about the decisions they make while they're driving so they're not texting and driving or drinking and driving or being impaired with marijuana or some other substance while driving," he added. "That even includes some prescription medications that have warning labels on them."
Watson encouraged kids to text or call their parents to come get them if they're in an unsafe situation.
"Yeah, they might be mad and might take away your car keys or your phone, but that's not a big deal. At least they'll still have you to hug," she said.
Maynard said one way for kids to do that and avoid embarrassment in front of their peers is to text an "X" to their parent or trusted adult to signal their discomfort in the situation. The adult can then call back to say there's a family emergency and they are coming to pick them up.
"I hope this will help get the conversation started with parents and teens for all year round not just during prom season," Maynard said.
Statistics show that every two minutes a person is injured from a drug- or alcohol-related car crash, and each hour someone dies because of an impaired driving crash, she added.
PCHS hosts the reenactment every other year prior to the school's prom night. "We want students to remember that life is fragile and they each have a responsibility to think before they act," Principal Amy Hubner said.
—Prom season reenactment shows students worst case consequences of alcohol, drug use–