PCHS JROTC RIFLE TEAM- 22-23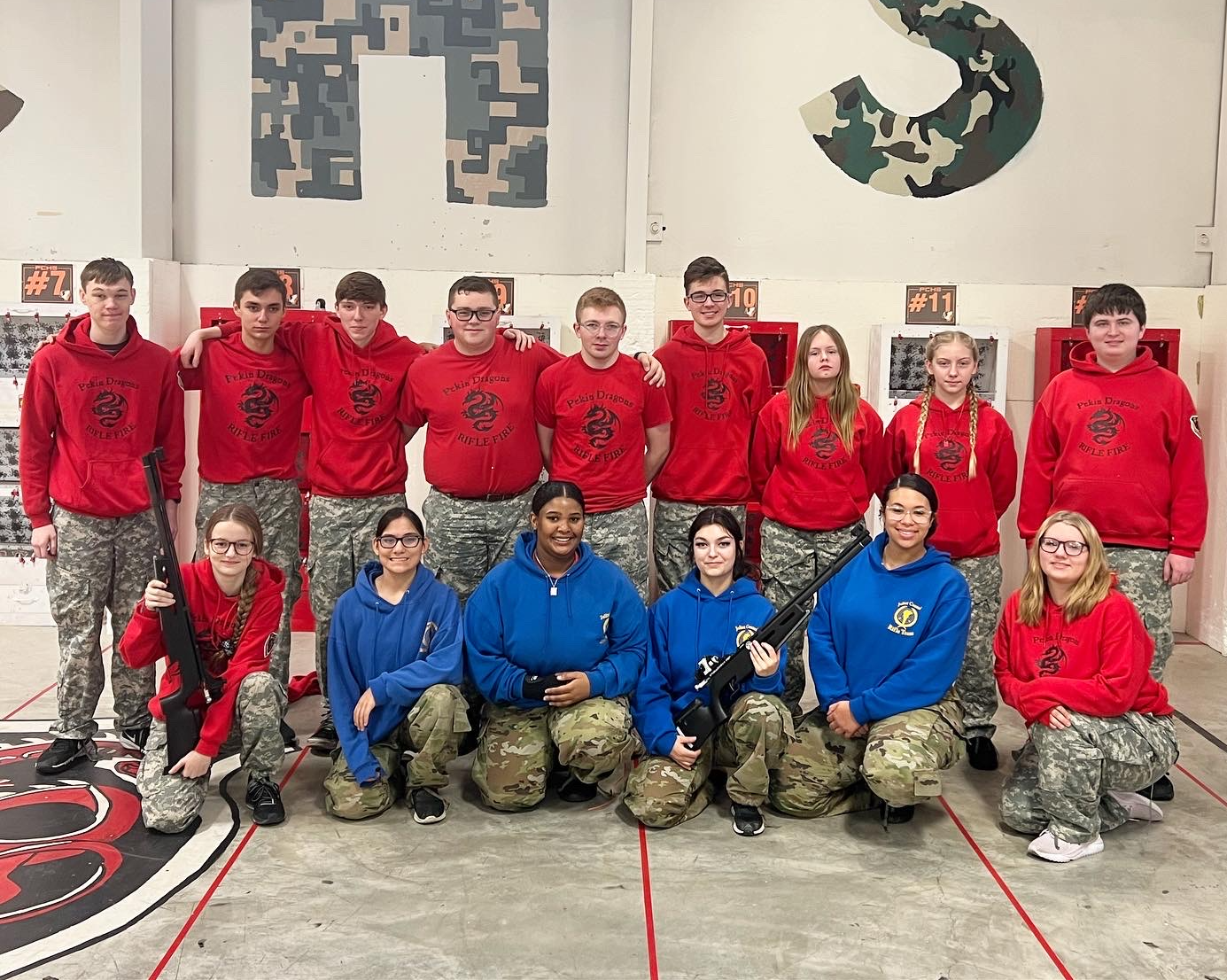 Home Rifle Competition
The Pekin Rifle Team also know as Rifle Fire, competes in air rifle Competitions state and nation wide. Tryouts are typically in October and competitions are held against other schools, at home and away, from the months of November through February. We also compete in some "postal competitions" where we shoot targets and they get sent in for scoring against other teams. If the team qualifies at the end of the year, certain higher scorers will be picked to compete at Camp Perry, Ohio, for NRA Air Rifle Nationals.
Requirements For Rifle:
Must go through try-outs

Must have a sports physical on file each year

MUST PASS with a 100% a safety test administer in class

Must be passing at least 5 classes to be eligible for meets.
CADETS COMPETE AT NATIONALS:
By Mike Kramer / Pekin Daily Times
Posted Feb 28, 2019 at 2:12 PM Updated Feb 28, 2019 at 2:27 PM
A five-person team of Pekin Community High School's Junior Reserve Officers Training Corps cadets recently qualified to participate in the annual Army JROTC Service Championships.
The 25-team competition was held Feb. 16 and 17 in Camp Perry, Ohio. The PCHS team consisted of junior Blake Briggs, senior and team co-captain Hope Hill, sophomore Julius Min, senior Audrey Thaller, and senior and team co-captain Kallista Tribbet.
"We had gone (to the Service Championships) just to watch last year," said Tribbet. "I was really nervous, but once I got laid down (to shoot from the prone position), I relaxed and actually focused on the target. It was really exciting."
According to Lt. Col. (Ret.) Larry Hallstrom, senior Army instructor for the PCHS JROTC program, a rifle team from Pekin is a familiar sight at the JROTC Service Championships. The program has sent teams in 2012, 2013, 2014, 2016 and 2018. Having been in JROTC for three years, Hill has attended the competition as a spectator and was excited to return as a contestant.
"It was something we'd been doing for three years, and we never got to qualify ourselves," she said. "So when we finally got the chance to go, we were really happy to have all our hard work pay off."
Although the PCHS team did not place in the top eight spots to qualify for the inter-service JROTC National Championship that will take place March 21-23 in Anniston, Ala., each team member shot a personal best during the competition, said Hallstrom. The team qualified for the event by placing 13th out of 150 teams in Cadet Command's 3rd Brigade JROTC Air Rifle Postal Competition, which ended in December 2018. All 3rd Brigade shot at their respective locations and electronically scanned in targets for submission to the Civilian Marksmanship Program, a U.S. government-chartered program that promotes firearm safety training and rifle practice for all qualified U.S. citizens with special emphasis on youth. Cadet Command's 3rd Brigade is responsible for Army ROTC programs in North Dakota, South Dakota, Nebraska, Kansas, Minnesota, Iowa, Wisconsin, Illinois, Missouri, and Michigan's Upper Peninsula.
"They had to shoot a qualifying round," he said. "That score goes against all the other teams in our region. Based on those scores, they rank-order them, and the teams that have the highest scores go to (the Service Championships)."
Distinguished past Service Championship competitors include Virginia Thrasher in 2014. Thrasher went on to win a gold medal in the women's 10-meter air rifle at the 2016 Summer Olympics in Rio de Janeiro.
"She was unbelievable," said Hallstrom. "Most people don't realize this is an Olympic sport."
Participants in the Service Championships shot air rifles at quarter-sized targets from a distance of 10 meters from the prone, standing and kneeling positions. Neither Tribbet nor Hill had fired a rifle before enrolling in JROTC.
"We learned it all here," said Hill.
Hallstrom added that the concentration required for shooting is a valuable skill to have beyond the rifle range.
"It helps you focus better and that carries over into other things you're doing, whether it's schoolwork or whether it's things that you do at home," he said. "It helps you pay more attention."