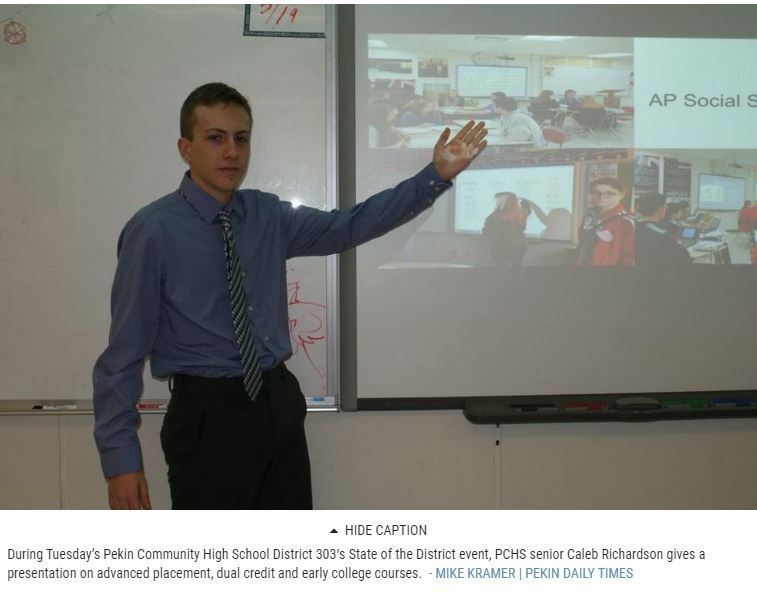 State of the District event highlights PCHS programs, students
By Mike Kramer / Pekin Daily Times
Wednesday, March 20, 2019
Pekin Community High School District 303′s State of the District Tuesday evening gave district officials along with school faculty and students an opportunity to present the districts offerings to the community.
About 160 community members, not including staff and students, attended the event Tuesday at Pekin Community High School. Culinary arts students presented a buffet-style dinner of a choice of pork or chicken, rolls, two varieties of salad, cheesecake and mousse brownies.
"Our team put everything they had into feeding these people," said 17-year-old Jonathon Savka, a PCHS senior and culinary arts student. "We tried the food to make sure it was up to taste for everyone, and it was pretty delicious. We offered some variety this year so people wouldn't feel forced on what they had to eat and could enjoy their meal more."
The PCHS Encore Strings Orchestra and the school's Minor Details Chamber Singers provided entertainment during and after dinner.
"The purpose is to open up the building and invite the community in to see the great things that are happening inside," said District 303 Superintendent Danielle Owens. "We let the students share the different programs they're part of. It's a way to bring the community to meet and talk about what we're doing."
One feature of the evening was a series of breakout sessions during which PCHS students and staff members gave presentations on school programs and volunteer opportunities. Presentation topics ranged from career and technical education to available internships to the Dragon's Closet, an on-campus facility that provides clothing, toiletries, food and school supplies to students in need. New initiatives include the PCHS childcare program and the internship program.
"With a bigger school, we have more opportunities for kids," said Owens. "I think we do a great job responding to the community and the needs of the community in terms of trying to develop students here so they can move right into their communities and be active members. We have a great relationship with area industries and businesses, and they help with our programs."
PCHS senior Caleb Richardson, 17, helped conduct the presentation on available advanced placement, dual credit and early college courses. He hopes to study linguistics at Ohio State University and is currently taking advanced placement courses in statistics, language and composition, European history and physics.
"A lot of kids don't realize this, but the high school offers several AP (advanced placement) courses," he said. "I'm saving $40,000 (in future tuition) just from the college credit I've gained through these classes. The biggest thing about school is not the content but time management. The AP courses give you more to do, so I learn time management as a skill for further education and for life."
PCHS senior Alexis Epkins plans on attending Western Illinois University and eventually becoming an elementary school teacher. She currently has an internship at Spring Lake Grade School in Manito, where she plans and conducts lessons and tutors and mentors students.
"The internship gives us a ton of opportunities to get involved in the community and form relationships," she said. "We also get career experience in a professional environment. I like what I do for my internship. I'm very passionate about it, and if I'm going to speak about something, I want to speak about something I'm passionate about."
PCHS alumnus Joseph Wuellner was impressed by the way the district and the high school put the event together and by the many programs the school offers.
"There's more than reading, writing and arithmetic," he said. "There's the band, there's the culinary program, there's the arts and communications. It covers just about everything."
The first State of the District event was held last year, according to Owens. The next and third event will take place in 2021 and will be held every other year in the future.
"We're going to take a year off just to keep the interest going," said Owens. "We don't want the interest to wane, and we always want to be able to showcase some new things."