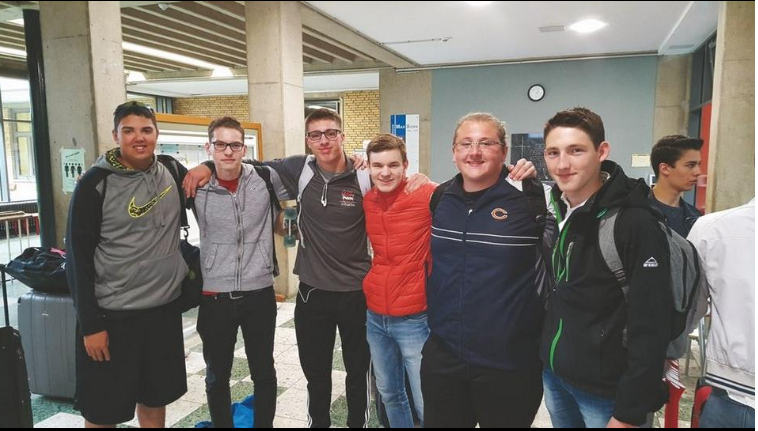 Pekin students talk about time abroad through exchange program
Braden Fogal
Thursday, August 16, 2018
By Braden Fogal / Times CorrespondentPosted Aug 3, 2018 at 1:08 PM

Pekin Community High School is celebrating its 30th year as a GAPP exchange school. GAPP stands for the German American Partnership Program. Since 2012 the PCHS's current exchange school is the Max-Born-Gymnasium in Backnang, Germany. The school was named after the famous 20th century German physicist Max Born who happened to be the maternal grandfather of Olivia Newton-John. Born was also a descendant of the famous German theologian, Martin Luther. Built in 1970, the school population is about 800 students.
>span class="s1">"I didn't really expect how nice some of the German people would be," said University of Bradley freshman Danielle Watson, a recent PCHS graduate. "Especially with my house family, they were really nice and a lot like my family so it was really nice getting to know people in Germany."
>span class="s1"
>span class="s1">"I didn't realize how lax the school system is there compared to PCHS, especially when it came to being tardy or just sometimes not going to class," said University of Illinois Urbana-Champaign freshman Joshua Utley, a recent PCHS graduate. "It almost felt like you were in a university classroom where the attitude was you have the option of missing class but it's your loss if you do."
During their two-week home stay in Backnang, students got a tour of the town visiting places like the city of Stuttgart, the Mercedes-Benz Museum, as well as touring part of the Porsche factory.
"The trip as a whole was very eye-opening," said Watson. "If you ever have the chance to go don't think about how much money it's going to cost because it's 100 percent worth it and you learn a lot about the culture but more importantly a lot about yourself."
A week of the trip was spent on traveling around Europe visiting destinations like the Chapel Bridge in Luzern, Switzerland, or visiting Innsbruck, Austria, and touring the old down town area and the Hofkirche (Court Church).
"Traveling to Germany was the highlight of my summer," said Utley. "At the end of the day it's an investment because there's so much value in learning that there's a world outside of the world you live in."
Students from Backnang will be visiting PCHS in 2019. The two-year exchange cycle allows each side to take turns visiting one another. PCHS travels to Germany every even numbered summer (2014, 2016, 2018), while students from Backnang visits every odd numbered spring (2013, 2015, 2017).