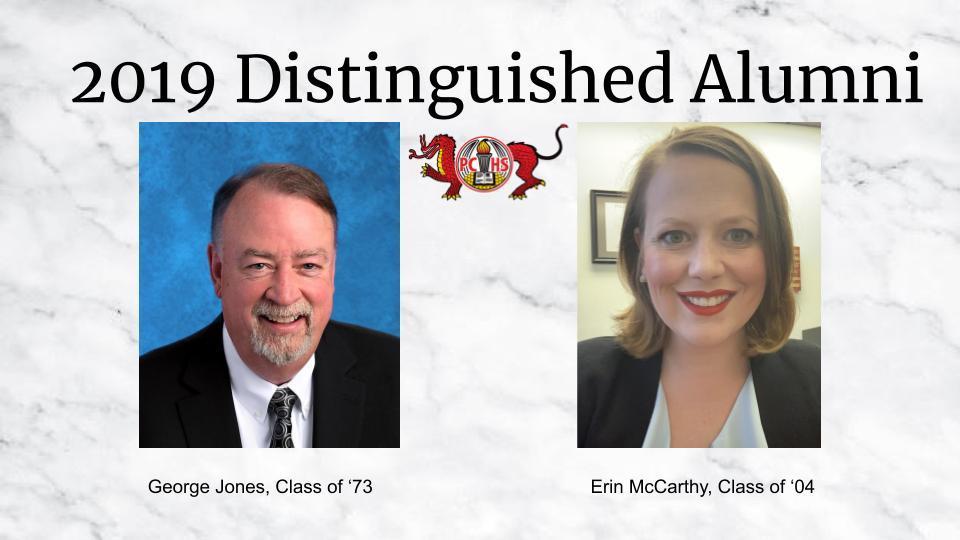 PCHS 2019 Distinguished Alumni Award
Dr. Danielle Owens
Wednesday, September 25, 2019
The Pekin Community High School District No. 303 Board of Education has established the Distinguished Alumni Award to recognize individuals who were educated and inspired by our school system. Those selected for this honor have distinguished themselves by virtue of their outstanding contributions to the school, community, or society in general. They serve as role models to inspire current and future generations of students.
We are honored to recognize two individuals who were nominated for this distinguished award based on their accomplishments since graduating from Pekin Community High School. This year's honorees will be celebrated at PCHS's Homecoming Festivities. They will be present at the school's Homecoming Pep Assembly on Friday, October 4th. And, after riding in the Homecoming Parade at 5:30 on October 4th they will be honored before the start of the varsity football game that same night.
Mr. George Jones, nominated by Donna Jones and a 1973 graduate of PCHS, and Ms. Erin McCarthy, a member of the class of 2004 who was nominated by Liz Smith, are the 2019 recipients of the Pekin Community High School Distinguished Alumni Award.
George W. Jones was actively involved in band, orchestra, choir and music theory while at PCHS. He was mentored by the original "Leader of the Band," Lawrence Fogelberg. In addition to his course load, Mr.Jones participated in the Solo and Ensemble contests, Mid-State 9 Honor Band, "Melody Men" (a small men's chorus) and the PCHS Jazz Band. Each of these activities gave him performance opportunities throughout the Pekin community and prepared him for a future performance career. He was also a member of the Pekin Municipal Band from 1970-1977 before moving to Texas.
In addition to his musical activities in high school, George was also a member of the National Honor Society and the National Forensic League. He won many awards competing in Original Oratory and advanced to the State level of competition. He was also very active in youth activities at First United Methodist Church of Pekin.
George received his Bachelor of Music Education degree from Illinois Wesleyan University in 1977. He was then offered a full scholarship to attend Southern Methodist University, where he served as the Graduate Assistant Conductor of the Wind Ensemble as well as a member and arranger for the Dallas Cowboy Band.
In 1979, George began his career with the Garland Independent School District, a District of 57,000 students across 72 campuses with a diverse population, serving as band director at Memorial Middle School and assistant band director at South Garland High School. Mr. Jones served in various positions throughout his tenure with the Garland Independent School District including head band director of Lakeview Centennial High School, which performed for President George H.W. and Barbara Bush. He also served as the first band director at the newly constructed Rowlett High School in the Garland school district where he wrote the school's Alma Mater and Fight Song.
George served as the Director of Visual and Performing Arts (VAPA) for the Garland Independent School District from 1997-2018. In this capacity, he was responsible for the daily operations, curriculum, staff development, budget, and staffing for the more than 250 teachers in the area of Music, Art, Theatre Arts, Dance and Competitive Speech.
Mr. Jones has been a constant advocate for the arts in education. Under his leadership, the Garland school district earned the distinction of being named one of the Best Communities for Music Education by the National Association of Music Merchants Foundation 10 times. In addition to helping achieve accolades for his school district, Mr. Jones has won many individual awards for his contributions to the world of music, including the Texas Music Educators Conference Music Administrator of the Year and the Lifetime Music Administrators Achievement Award from the Texas Bandmasters Association. He was also presented the "Lifetime Achievement Award" from the Richardson Arts Alliance after serving as the conductor of the Community Band for 34 years.
George is passionate about offering the very best possible arts education to students across the nation. George states, "I believe that my most important task as an administrator is to hire great teachers, provide them with the necessary support and then let them work their magic." George continues to be an advocate for the arts. "It gives me such pleasure to see the music programs at PCHS continue to grow and thrive. The community has always been a strong supporter of the arts. I am only one of the beneficiaries of this support and will forever be grateful to the teachers and the community that provided me with an education that allowed me to have an impact on future generations."
Since his retirement in December of 2018, he has continued to stay involved in music, serving as a mentor to new teachers, a clinician for bands across Texas, and an adjudicator for both the University Scholastic League and many invitational band contests. He continues to work with adult band members as a guest conductor.
The son of Jacky Jones, a Pekin resident, George lives in Wylie, Texas with his loving wife Donna who also retired from teaching after 31 years. They enjoy leading travel groups to Europe each summer. He has two children and four beautiful grandchildren. Being "Papa" is one of his greatest joys. Mr. Jones' biggest advice to current PCHS students is "good grades matter." From helping to achieve scholarships to eventually entering the workforce, good grades can make the biggest difference.
Erin McCarthy, a member of the class of 2004, was born and raised in Pekin with her parents Mike and Elaine McCarthy. She attended Sunset Elementary, Wilson Intermediate School, Broadmoor Junior High, and PCHS. Erin was also active in music while at PCHS, participating in Concert Band, Symphonic Band, Marching Band, and Jazz Band while playing the flute, cymbals/percussion, and even the euphonium. She was also active in the theater program and was on Student Council. However, her favorite extracurricular was being a part of the PCHS Speech Team. She competed in Extemp, Humorous Duet Acting, Impromptu, and Prose categories and was a national semi-finalist in Extemp Commentary her senior year. In addition to school and activities, Erin worked at Staples and also coached figure skating for the Pekin Park District. Ms. McCarthy graduated with a 4.0 and was a valedictorian.
Ms. McCarthy went on to Bradley University and majored in International Relations and Spanish. While at Bradley, she was on the Bradley University Speech Team. She was a part of the 2005 team that won the national championship, becoming a national semi-finalist in Prose and a national champion in After Dinner Speaking her senior year.
After graduating Magna Cum Laude from Bradley, Erin went on to law school at Tulane University Law School in New Orleans. While there, she volunteered to help victims of Hurricane Katrina and Hurricane Gustav in the Tulane Environmental Law Clinic. She clerked in the Orleans Parish Criminal District Court and also worked part-time in the Orleans Parish District Attorney's Offices. During her third year of law school, Erin served as the Senior Managing Editor of the Environmental Law Journal. She graduated Magna Cum Laude in 2011. During her final year of law school, Erin decided to join the military where she applied for the Army Judge Advocate Generals' Corps (JAG) and was offered an active duty commission in 2011.
While studying and passing the bar exam, Erin worked as an Assistant Coach for the Bradley University Speech Team, and was a student attorney for the Tazewell County District Attorney's Office in Pekin.
After completing basic training, Ms. McCarthy entered the Army as a First Lieutenant and was stationed at Fort Meade, Maryland, and then Fort Richardson, Alaska. She served over seven years in the Army as a JAG officer and spent her military career in criminal law, either prosecuting or defending soldiers at courts-martial. Ms. McCarthy left the Army as a Captain and was awarded a Meritorious Service Medal for her work in developing an interactive training program for Sexual Assault Victim Advocates as well as her work as a Trial Counsel and Senior Trial Counsel.
While at Fort Meade, Erin volunteered by teaching free yoga for the community and on base. As a yoga instructor she helped create a charity called "Seva Sundays," the proceeds of which are used to bring housing, education, and healthcare to people in need around the world. Since moving to Anchorage, she does community outreach through the Rage City Roller Derby League where she skates for the local roller derby team, the Rage City Rollergirls.
Ms. McCarthy left active service in July and now works as a Child Protection Attorney for the State of Alaska. She lives in Anchorage, Alaska with her husband, David, who is an Alaska State Trooper. They have two dogs, Rooster and Goat.
Erin credits the PCHS speech and drama programs in particular for her confidence and success as a trial attorney. Through these activities she learned how to be comfortable speaking in front of people and good thinking on her feet. She appeals to current students to thank their teachers, especially the ones that are there on nights and weekends to support activities. In addition, Erin encourages students to try to take advantage of as many opportunities as possible through extracurriculars and electives even if it's something they are nervous about or scared to try.